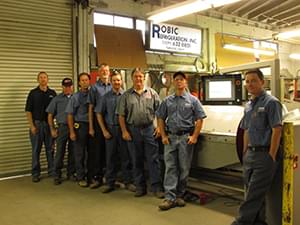 Robic Refrigeration was founded in by Richard and Bernita Roton with three employees on March 15th, 1975, as an HVAC, Sheet Metal and Refrigeration sales and service company. The name "Robic" is a combination of "Roton" and "Bick", which is Bernita's maiden name. The three employees were Carl Stuart (Service Manager), Kevin Roton (Sheet Metal) and Howard Garner (Service Technician).
The company has always emphasized continued education for our employees in their respective fields. Our goal is to provide quality workmanship and dependable service. Our Technicians and Installers are EPA and NATE Certified and are generally considered tops in their field. Besides Residential, Commercial and Industrial HVAC, Robic furnishes and installs Commercial Kitchen Hoods, Ice Machines, Walk-in Boxes, Cold Storage Refrigeration Projects, Milk Tanks and many Heating and Cooling applications. We do all of our own Sheet Metal Fabrication, as well as fabricating for many other Contractors in the HVAC and Roofing Trades.
Robic incorporated the company in 1980. In 1991, upon Richard's retirement, Carl and Kevin became part-owners and Bernita continued as CFO. In 1998, Carl became President and Kevin, became the Vice President.
Carl retired in 2000 and Bernita in 2001 leaving the company under the leadership of Kevin as President and Howard as Vice President. Claudina Roton became the Office Manager and CFO.
Robic Refrigeration, Inc. has had the privilege to work for such customers as Costco, Gallo Winery and Glass Plant, Sunnyside Farms, Con Agra, Beard Land Improvement, several area Nut Processors, and many local Restaurants. Our service generally covers a 30 mile radius of Turlock.
Our motto "As Good as the Best. Better Than the Rest!" is still our goal and we take pride in our employees and the many projects we have been involved in throughout the valley and beyond.