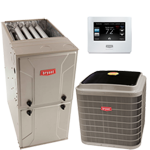 With a traditional heating and cooling system, if you wanted to save more, you had to use less. But a Hybrid Heat system combines the benefits of intelligent control for both gas and electric heating to create an intuitive system that can actually react to changing conditions.
No matter what the temperature is outside, a Hybrid Heat system will automatically select the fuel source most efficient for your home, which means you'll stay warm in the winter, cool in the summer and save money all year long.
To design a Hybrid Heat system for your home, we professionally match one of our heat pump units with a natural gas furnace. Contact us to see how much energy you can save over your existing system.
Gas Furnace Choices for Hybrid Heat Systems
Heat Pump Choices for Hybrid Heat Systems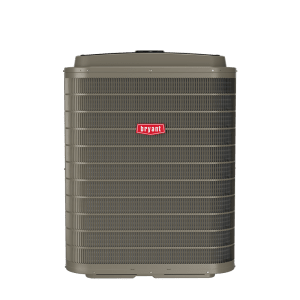 EVOLUTION™ EXTREME 24 VARIABLE-SPEED HEAT PUMP
View Brochure
Model Family: 284ANV
Efficiency SEER:
Efficiency SEER2: Up to 22 SEER2
Efficiency EER:
Efficiency EER2: up to 14 EER2
Efficiency HSPF:
Efficiency HSPF2: Up to 10.5 HSPF2
Energy Star Rated: ENERGY STAR®
Sound Level: 51 dB during lowest capacity cooling operating condition
Refrigerant Type: Puron®
Compressor: Variable Speed Compressor
Factory Warranty Parts: 10-Year Parts Limited Warranty
Factory Warranty Compressor: N/A
Manufacturer's Stated Benefits:
10-year unit replacement limited warranty
Evolution™ air purifier included with purchase
Quiet Mode feature enables homeowners to cap sound levels at 69 dBA
Extreme humidity control - Can remove up to 400% more moisture than standard systems
Over-the-air software update capabilities
Bluetooth® connectivity for enhanced service & diagnostics
Senses operating conditions and adjusts to enhance system reliability
Excellent performance with zoned systems
DuraGuard™ Plus protection for lasting durability against the elements
True variable-speed operation with longer, lower speed cycles to give you more energy savings.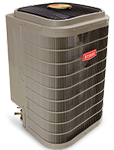 Evolution® Variable-Speed Heat Pump
View Brochure
Model Family: 288BNV
Efficiency SEER:
Efficiency SEER2: Up to 18.5 SEER2
Efficiency EER:
Efficiency EER2: up to 12.5 EER2
Efficiency HSPF:
Efficiency HSPF2: up to 9 HSPF2
Energy Star Rated: ENERGY STAR®
Sound Level: As low as 55 DBA
Refrigerant Type: Puron®
Compressor: 5-stage rotary with as wide as 25-100% capacity range
Factory Warranty Parts: 10-year parts limited warranty upon registration
Factory Warranty Compressor: 10 year limited warranty on compressor
Manufacturer's Stated Benefits:
Sheet metal construction with baked-on, complete outer paint coverage for lasting durability against the elements
Attractive, louvered cabinet protects the coil against physical damage
Optimal dehumidification capability with the Evolution Connex™ Control
Soft start and smooth ramp up to operating speeds
Senses operating conditions and adjusts to enhance system reliability
Excellent performance with zoned systems
Bryant's smallest ducted, variable-speed heat pump can fit discreetly into your landscape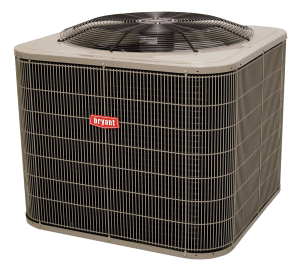 Legacy™ Single-Stage Heat Pump
View Brochure
Model Family: 214D
Efficiency SEER: Up to 14 SEER
Efficiency SEER2:
Efficiency EER: Up to 11.5 EER
Efficiency EER2:
Efficiency HSPF: Up to 8.2 HSPF
Efficiency HSPF2:
Energy Star Rated: No
Sound Level: As low as 69 dB
Refrigerant Type: Puron®
Compressor: Single-stage scroll
Factory Warranty Parts: 10-year parts limited warranty upon registration
Factory Warranty Compressor: 10 year limited warranty on compressor
Manufacturer's Stated Benefits:
DuraGuard™ protection package
Steel louvered coil guard